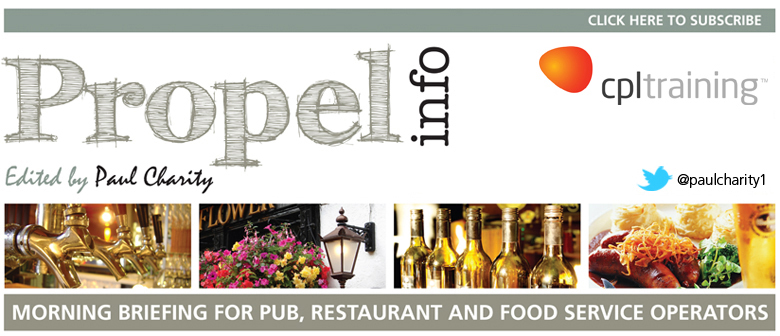 Thu 30th Oct 2014 - Propel Thursday News Briefing
Story of the Day:

Coffee roasters plan chain of 20 cafes: A firm of coffee roasters which supplies outlets from Tesco to farm shops is planning a chain of 20 cafes across the country. Paddy & Scott's, which employs 200 people at its base, the Bean Barn in Earl Soham, Suffolk, has opened the first two in the planned chain in Abbeygate Street, Bury St Edmunds, and Framlingham, Suffolk. Co-owner Scott Russell said: "We're planning another two or three in the area and 15 others across the country." Russell said the intention was to avoid the "formulaic" attitude to coffee of the big chains. He said: "We are coffee roasters – that's what we do. I love my coffee." The chain of Paddy & Scott's cafes will offer specialist coffees served by staff who are interested in coffee, Russell said, adding that customers appreciate the differences in coffees from different regions. "Palates are changing," he said. "They understand new, good coffees – especially in a cool town like Bury." Russell said 90% of the new chain's food was sourced from within East Anglia from high welfare producers. Russell and co-founder Paddy Bishopp began their artisan coffee business in 2007 by roasting beans in their garage to try to create new blends.



Company News:

US website places Wagamama ninth of list of 16 best international chains: The respected American website thrillist.com has placed Wagamama ninth of its list of the best 16 international restaurant chains, the only UK brand to make the list. A popular Filipino fast-food chain, Jollibee, with 2,833 stores worldwide, took top spot in the rankings, beating the Japanese ramen restaurant Ippudo and the Saudi Arabian fried chicken food chain Al Baik. Other restaurants included in the list are: Teremok from Russia, Toast Box from Singapore, Nordsee from Germany, Kungfu from China, Quick from France, Burger Ranch from Israel, Telepizza from Spain, Supermac's from Israel, Giraffas from Brazil, Steers from South Africa, Hamburguesas El Corral from Colombia, and Oporto from Australia.
 
Founders of Bebo social networking site buy North Devon pub: The founders of the social networking site Bebo have bought the Farmers Arms pub in Woolsery, North Devon. Michael Birch and his wife Xochi, who live in San Francisco, California, have bought two properties in Woolsery, the Farmers Arms and the Manor House. Michael Birch, who was born in Britain, described Woolsery, also known as Woolfardisworthy, as his "spiritual home". He has family connections with the village and has visited since he was a child. Michael said: "We are fans of the village pub, where everyone knows everyone, and you have a sense of emotional belonging. We share the local community's enthusiasm for the Farmers Arms and Manor House. These buildings are important assets and will be tastefully restored." Xochi said: "Before we put out the welcome mat we ask everyone for their support, cooperation and patience as we undertake the mammoth task of planning and restoring the buildings to their rightful place of historical significance in Woolsery." The pub, which is the only one in the village, closed down in December 2012. The Birches, who met in London, launched Bebo in 2005. By 2007 the site had more than 45 million registered users. The pair sold it to AOL in March 2008 for $850m. They then watched as the business crumbled, due in part to the rise of Facebook. The Birches bought Bebo back for $1m in 2013. Bebo, which stands for Blog Early, Blog Often, is due to re-launch in November.

Faucet Inn puts Ed Miliband's local up for sale: Faucet Inn, the pub and restaurant operator led by Steve Cox, has put the Dartmouth Arms in Tufnell Park, North London, close to the home of the Labour Party leader Ed Miliband, up for sale through the property agent Savills for £1.8m. Faucet, which bought the pub four years ago, has been given planning consent to turn the upper floors into two self-contained apartments. However, Savills said it was searching for a new operator for the pub as part of the deal. The pub had been the subject of a campaign in recent years to stop the building being turned into flats. Locals had feared the conversion plan would mean the pub would close and the whole building would be converted. Miliband has led calls for the Dartmouth Arms to be saved, saying in 2011: "The Dartmouth is a really great local pub, so obviously I hope that any new development doesn't do anything to ruin its character, or put it at risk." Two-bedroom flats in the area sell for about £550,000.

TLC Inns to open third Grand Central next week: TLC Inns, the award-winning pub and restaurant operator led by Steve and Jo Haslam, will open its third Grand Central Bar and Grill in Colchester on Thursday 6 November. The company has converted the former Glasshouse restaurant, a 5,000 sq ft site in a £250,000 investment. Propel has previously reported that the company has invested £640,000 on a site on Ipswich quayside that will see a further £750,000 investment before opening at the fourth Grand Central in 2015. TLC's first Grand Central in Basildon, Essex is currently achieving 30% like-for-like sales growth more than two years after it opened on the site of a former Outback Steakhouse. The second Grand Central opened in Ely, Cambrigeshire in the Spring.

High Court dismisses Sam Smith's legal challenge: The High Court has dismissed a challenge brought by Samuel Smith's Brewery in Tadcaster to the adopted Selby District Core Strategy Local Plan, a long-term blueprint for delivering jobs, homes and services within the district up to 2027. A revised blueprint was adopted by Selby Council last October after a bitter planning battle which saw initial proposals withdrawn after concerns raised by Sam Smith's, the region's oldest brewery. The company challenged the adoption of the document at the High Court. Mark Crane, the leader of the council, said: "We welcome the judgement given, which comprehensively dismisses the challenge brought by the brewery. It took a tremendous amount of work over a number of years to get the document prepared and adopted; it was disappointing to face this challenge but we now have a document that will drive business and housing growth to 2027." The delays over the Core Strategy were the latest problems to emerge in a fractious relationship between the council and the Tadcaster-based brewery, including a long-running row over the redevelopment of a car park in the centre of the town.

Burger & Lobster operator reveals design brief behind new lobster roll brand Smack: The Burger & Lobster operator Goodman Restaurants hired the creative agency Graphicks to help theme its new lobster roll brand Smack, due to open next Monday (3 November) in Binney Street, just off Oxford Street in Central London. Alexandra Lea, group marketing manager for Goodman Restaurants, said: "The brief we gave Graphicks was to create packaging and wall art to enhance the experiential environment and seductive sensuality of the lobster rolls we'll be serving." Graphicks used the myth of the sirens, the sea creatures who sang with such beauty that all who heard them were irresistibly drawn to their deaths. An underwater shoot with specialist models followed by CGI resulted in "seductive and haunting" siren images to be projected onto the restaurant wall. Will Hicks, founder of Graphicks, said: "It has been immensely satisfying for our team working with [Goodman] on this project and it has continued our focus of developing creative ideas with dynamic and leading companies within the restaurant sector."
 
PizzaExpress secures Cafe Rouge site in central London: PizzaExpress has secured a Cafe Rouge site at 43 Charing Cross Road in Central London The 4,930 sq ft outlet will be opening in December. The property agent Shelley Sandzer  acted for the landlord, Gascoyne Holdings. The three-floor Charing Cross site was sought after by UK and international brands. The restaurant has a 2,024 sq ft basement, a 1,561sq ft ground floor and a 1,345 sq ft first floor. Nick Weir, joint managing partner at Shelley Sandzer, said: "Charing Cross Road is a key central London dining destination and we are very pleased have found the right brand for the right location on behalf of Gascoyne Holdings."

McDonald's to unveil new slogan to combat sinking sales: McDonald's is set to unveil a new slogan in a bid to counter drooping sales. By January 2015 the fast-food giant's new tagline will be "Lovin' Beats Hatin'", according to the Wall Street Journal. The new campaign aims to spread happiness in the face of internet hate. It will not, however, replace "I'm Lovin' it" but instead seeks to "deepen" its meaning. The campaign is expected to roll out on 1 January and include a 60-second spot during Super Bowl XLIX, which airs on NBC. A spokesperson for McDonald's said: "We're always working with our partners on great new creative."
 
Nightclub company to open third site this weekend: The Croydon-based nightclub company SLVR (pronounced Silver) is to open its third site this weekend. The company is to open a new SLVR site in Milton Keynes' Theatre District, occupying the site of the former Cookies and Cream in Savoy Crescent, which closed last week. It has two floors of dance with three bars, a VIP area and student nights on Thursdays, and a 4am licence. The venue will be playing commercial music and serving cocktails. The club will open on Thursday, Friday and Saturday nights with admission costing between £3 and £6. SLVR also has sites in Bristol and Croydon.
 
Award-winning chef to extend pop-up: The award-winning chef Mary Ellen McTague is to extend the opening of her pop-up restaurant 4244 in Manchester's Northern Quarter until Christmas. The pop-up venture from the team behind the award-winning restaurant Aumbry in Prestwich was launched to coincide with refurbishment works at the Prestwich venue. But those works have been delayed, and with the success of 4244 so far, McTague has decided to extend her city centre residency until 23 December. The 50-cover restaurant has been open for a month at 42-44 Edge Street, in a converted unit at the rear of the Teacup cafe. The restaurant has been a joint venture with the Manchester hospitality operator Sparklestreet.

Curzon Cinemas agrees to pay the Living Wage: Curzon Cinemas has agreed to pay the Living Wage to staff in a landmark move that makes the boutique chain the first UK cinema group to commit to the higher wage, the London Evening Standard has reported. The media union Bectu negotiated with Curzon for more than a year. The agreement means staff at Curzon's six London cinemas will get the Living Wage, currently £8.80 an hour, from January. Front-of-house staff earn around £7 per hour at present. Curzon's chief executive, Philip Knatchbull, said he wanted to pay "a fair wage" to staff because they "make Curzon special" with their enthusiasm and knowledge of film. It comes as he invests heavily in the group, expanding with new sites such as Victoria in central London and revamping existing cinemas in Soho and Bloomsbury. Knatchbull told the newspaper: "This could not have occurred without the support of our shareholders, who will subsidise the cost of doing this in the short term until the cost is self-financing through the better quality of work we think paying people properly will engender."
 
Jamie Oliver wins planning go-ahead for Tunbridge Wells Trattoria: The chef-entrepreneur Jamie Oliver has won planning consent to open a Trattoria in Tunbridge Wells, Kent. The venue will open at 46-50 High Street, though a definite opening date has not been confirmed. The application has been given the green light subject to a number of planning obligations, such as the correct disposal of waste, and noise management methods. The unit is also to be housed within an acoustic enclosure in a bid to reduce noise even further and protect surrounding residential buildings. The site will be the third Jamie Oliver Trattoria, a more rustic, smaller version of Jamie's Italian.
 
Byron first to sign for Worcester's Cathedral Plaza: The gourmet burger chain Byron has become the first business to snap up a unit in the soon-to-be refurbished Cathedral Plaza in Worcester. The London-based chain has been signed up by Salmon Harvester Opportunity Fund, which owns the mall, for a 4,392 sq ft restaurant. Nick Webb of Salmon Harvester Opportunity Fund said his company was delighted to sign the chain, which has 36 locations in London and 11 others around the country from Leeds to Exeter. He said: "We are targeting good-quality restaurant and retail businesses new to Worcester, to increase shopper dwell time, and to compliment existing retailers. Byron is expanding across the regions and we are delighted to have signed this exciting operator for its first restaurant in the West Midlands." Planning permission for the redevelopment of Cathedral Plaza was granted in August, and work will start on site in the second quarter of 2015, with the retail and leisure scheme programmed to open in 2016. The redevelopment plans will create 100 new jobs provide new shop units, a gym and restaurant units. Byron is due to open its 37th outlet in Holborn, central London in December.
 
Luke Johnson – 'let's face it, industry awards dinners are a bore': Sector investor Luke Johnson has cast a critical eye over industry awards dinners and decided they are an anachronism. In his Management Today column he wrote: "All too often I fail to obey what I call Albert's law of invitations: never accept an event months ahead unless you'd be happy to go to it tonight. Somehow these occasions seem more fun in the distant future, so, without thinking, I say yes. But by the time the date rolls around, they are nothing but a chore. Firstly, one has to wear a ridiculous penguin suit, which means carrying an extra outfit into work that morning, including shoes, socks and bow tie. Typically, they are held in cavernous venues in Park Lane hotels, where one feels like an ant surrounded by so many people all dressed the same. The food at such affairs is notoriously bad – almost invariably limp smoked salmon followed by rubber chicken. You are usually trapped sitting next to someone you don't especially want to talk to all evening. The comperes and speakers are usually third-rate hacks: no wonder guests tend to drink too much. One ends up having to catch a taxi home late, feeling the worse for wear, wondering what the point of it all was. I have been to hundreds over the decades: for the restaurant industry, the pub trade, stockbroking and finance, television, newspapers, the travel business – the list goes on. In theory, one goes to network, or conceivably pick up an industry award. But mostly the only beneficiaries are the organisers and the hotels that host them.

Giggling Squid to re-open Hove site next month: The Thai chain Giggling Squid, led by Andy and Pranee Laurillard, will re-open its site in Church Road, Hove next month, four months after it was devastated by giant hailstones that ripped through its roof, causing damage over four floors. Laurillard said at the time: "I'm told the hailstones were the size of golfballs. This must have meant the volume of water and ice just piled up and went into the roof rather than through the gutters. It must have been 500 to 1,000 litres of water coming in – it was six inches deep in the basement. We have lost the ceilings and floors all the way through the restaurant, from the second floor to the basement. The electrics are out, the decor is knackered."

Michelin-starred Atul Kochhar set to open Marlow restaurant next week: The Michelin-starred chef Atul Kochhar is provisionally due to launch his new restaurant at the Macdonald Compleat Angler Hotel in Marlow, Bucks next Wednesday (5 November). The restaurant is called Sindhu, which means river or ocean. Kochhar, the first chef to win a Michelin star for Indian cuisine, has put together a menu that combines Indian recipes with British ingredients. He received his first Michelin star as head chef at Tamarind in London in 2001. He then went on to open Benares, also in London, for which he received his second star in 2007.He has made regular appearances on television shows including Great British Menu and Saturday Kitchen. Kochhar joins fellow Michelin-starred chef Tom Kerridge in the town.
 
Starbucks and Costa Coffee lead the way for brands on social media: Coffee chain giants Starbucks and Costa Coffee are leading the way when it comes to engaging with UK social media users, according to the latest Food and Beverage Social Media Benchmark from eDigitalResearch. Measuring the number of "likes" on UK-based social media pages, the coffee giants come out on top, each attracting more than one million followers. However, the benchmark also measured the reach of some global brand pages. Global brand pages, a feature introduced by Facebook in 2012, allow brands to show localised content for different markets from one central account. The research found that out of the 50 top food and beverage brands that eDigitalResearch measured, just four, McDonald's, KFC, Pizza Hut and Nando's, are currently running their global social media activity via this method, with the world's biggest fast food chain, McDonald's managing to attract the highest number of international followers, at more than 44 million. The benchmark found that Nando's tops the Twitter league table, with almost double the amount of followers of the second-placed brand, Domino's Pizza. The Nando's UK Twitter account was found to engage well with the brand's core market, running competitions such as "Become a Halls Hero" for students, as well as organising giveaways at various branches with its #NandosDash campaign. The benchmark also found that food and beverage brands are starting to post a lot more throughout the weekend period. Traditionally, the eDigitalResearch social media benchmarks have found that brand activity wavered on Saturday and Sunday, despite consumers using social media 24 hours a day, seven days a week. However, the latest results reveal that food and beverage brands are now posting similar amounts of content every day.

Marston's seeks to build hotel next to Ipswich pub: Marston's has applied to build a 28-bedroom hotel next to the Mermaid pub in Yarmouth Road, Ipswich. The application is the second Marston's has made after an earlier proposal was rejected for not being of high enough quality. The hotel would only provide rooms – residents would be able to eat in the Mermaid on the other side of the car park, which opened two years ago with a family carvery restaurant. Ipswich Council planning officers say that the new proposal is of good quality and would enhance Yarmouth Road. Although it is in an area that is at risk of flooding, the building would not increase the flood risk and would have built-in protection. As well as the new hotel, Marston's would also create 28 car parking spaces in addition to the 60 that are already in place at the pub. In a submission to the council, Marston's planning consultants said the hotel would mainly be aimed at the short-stay market, with some of the rooms being earmarked for families.
 
Joule's to open Sutton Coldfield pub: The Shropshire-based brewery Joule's is to reopen the former Boldmere Oak in Sutton Coldfield, West Midlands on Thursday 18 December as the Boldmere Tap. The Tap is the Market Drayton-based brewery's 20th pub, and has been given an "Old Curiosity Shop" theme. Trudie Meredith, marketing controller for Joule's, said: "The brewery has given the Boldmere Tap a charming and magical touch of Joule's heritage, carrying an array of Joule's memorabilia and local charm with a great deal of sympathy for its historical traditional heritage and village background, and we intend to put our Joule's stamp on the building. Attention to detail, when carrying out such a big refurbishment project such as this, is paramount, creating a warm, cosy and friendly atmosphere. The Boldmere Tap will be a pure 'real ale' pub, a bit old-fashioned, but in a really good way – just our kind of pub." The Tap House will also display a collection of old beer bottles. The collection is under way, but the brewery is inviting customers and locals to "bring a bottle" on the night of the opening and the pub will exchange an old beer bottle for a free pint of Joule's Ale. The brewery started in 2010, but revives the name of a former brewery that closed 40 years earlier.
 
Rick Stein confirms Porthleven restaurant opening: The chef-entrepreneur Rick Stein has confirmed he is taking over a restaurant in Porthleven, near Helston, a story described by the local newspaper as "the Helston area's worst kept secret". Stein will be taking over the already established Clay Quay restaurant on the harbour-side, which will reopen in November, and continue to offer sharing plates of local and seasonal produce, inspired by Stein's travels. Stein said: "We aren't planning to make too many changes; we'll be adding a few new dishes on the menu and the odd new painting – other than that we love the current concept. It's a great restaurant in a beautiful fishing town." Since Stein and his business partner and now ex-wife Jill opened the Seafood Restaurant in 1975, the Padstow-based business has grown to include five restaurants, accommodation, retail outlets and a cookery school. It recently announced plans to open a restaurant in Winchester. Trevor Osborne, who with his family owns the restaurant as well as Porthleven Harbour, said: "We are very pleased to welcome Rick and Jill to Porthleven. Porthleven's growing reputation for good food will be further enhanced. For the past five years, the village has hosted a food and music festival which attracts circa 20,000 visitors to the village. We hope that the Stein reputation and involvement will add further to the attraction of the village as a wonderful destination with wonderful restaurants."
 
Papa John's franchisee opens two more: Papa John's franchisee Jitesh Patel is in the middle of opening two more stores, in Gloucester and Bradley Stoke, Bristol. Patel joined Papa John's in 2005 and already runs several Papa John's outlets in the Midlands, including Kings Heath, central Birmingham, Bearwood, Selly Oak, Worcester and Cheltenham. Anthony Round, business development manager at Papa John's, said: "Jitesh is one of our most committed franchisees. He bought his first Papa John's franchise when he was just 20 years old and a few years ago won our prestigious 'Franchisee of the Year Award'. As well as his own franchised stores he co-owns and runs two further Papa John's in Leicestershire with his sister Nisha, employing around 50 people. However, I know his ambitions don't stop there: his long-term goal is to own 20 Papa John's." The new Gloucester store, which involved a £200,000 investment and the creation of 25 jobs, will be giving away 200 of its pizzas free on Saturday to officially mark its opening.
 
Pub owner takes on restaurant in 'saturation point' town: The owner of a Michelin-recommended pub-restaurant in Kent has taken on a site in Sevenoaks that the previous owner closed last month after claiming the town was at "saturation point" with the opening of branches of Wagamama and Giggling Squid. Benjamin James, owner of the George & Dragon pub and restaurant in Chipstead, Sevenoaks, is opening a restaurant to be called the Little Garden on the former site of a Chinese restaurant called Ginseng in Well Court, Bank Street. Last month Ginseng's owner, George Liu, said he was shutting the restaurant, which has been in the town for 12 years, because of falling trade. He told the Sevenoaks Chronicle: "It's really sad, but there are too many restaurants in Sevenoaks now. Wagamama killed my lunchtime trade and the new Thai [the Giggling Squid] just finished me off." However, this week James, who is aiming for a February opening, told the newspaper he was confident his new restaurant, bar and grill would be a success. He said: "Well Court is a unique location in the heart of Sevenoaks, in which we will be offering alfresco dining in a beautiful courtyard garden. It is a restaurant site I have coveted for many years and I am thrilled to have the opportunity to open a restaurant there." James said the restaurant would have "an international menu, cooked by talented chefs in stylish surroundings and with exceptional service." The Little Garden will "maximise use of a transformed courtyard garden, beneath a century-old Canadian maple tree that proudly sits within the space. Inside, the modern, contemporary restaurant will be split across two floors including a bar and open plan kitchen featuring a unique Josper oven, the first of its kind in Sevenoaks. An enclosed charcoal oven adds a unique, unbeatable flavour to cooking. We will be able to smoke, sear and slow-cook a variety of meats, fish and vegetables." Wagamama opened in the town in March, and Giggling Squid in September.
 
Turtle Bay names late November opening for Preston: The Caribbean restaurant chain Turtle Bay has named Thursday 27 November as the opening day for its new outlet in Preston, Lancashire. The chain is opening in a nearly 7,000 sq ft site that was formerly three separate retail units at Crystal House on Cheapside, close to the Flag Market, with room for 175 diners. Ajith Jayawickrema, Turtle Bay's founder, said: "We're particularly excited to be opening our Preston restaurant. I think it's a city that will really 'get' the concept, with its 'no nonsense' attitude and big student population. I'm looking to bringing something new to the food scene. Turtle Bay is about great food and good times, simple as that." A licensing application indicates the restaurant and bar is to be open until 1am on Fridays and Saturdays. The opening, the chain's 13th, will come just under a fortnight after Turtle Bay opens its 12th outlet, in Guildford, Surrey, on 14 November.
 
Chapel Down reports record harvest: Chapel Down, the Kent-based winery, has reported a record harvest, with total tonnage of fruit up 40% on 2013, itself a record year. The harvest should yield almost 1m bottles of wine. "We got all the right weather at the right time enabling us to have a sensational harvest in terms of quality and quantity," Frazer Thompson, the winery's chief executive, told the Financial Times. Previous harvests have been more difficult for the group, which reduced wine volumes by a quarter in 2013 after poor summers in the previous two years. That filtered through to poorer overall profitability as lower-margin beer sales from its Curious Brew beer accounted for a larger proportion of total sales. Revenue in 2013 rose 4% to £5m, supported by an increase in wine prices and a doubling in sales of beer. However, profit before tax fell 83% to £67,700.

Garden centre launches artisanal coffee shop with sustainability focus: Wyevale's Hemel Hempstead Garden Centre in Hertfordshire has launched a new coffee concept, Coffee Ground, which it says is "in touch with its local roots, with strong coffee credentials and good old-fashioned roasting at the heart of its operation". Coffee Ground is described as an "artisanal cafe" which champions sustainability and great coffee. Coffee Ground will only serve triple-certified, organic, Fairtrade and Rainforest Alliance coffee, sourced from Brazil, Central America and Uganda. The used grounds produced by the cafe are to be recycled, by mixing with sheep's wool and other "secret ingredients", and then transformed into a natural soil nourisher. The cafe will roast daily and use the beans quickly after roasting. Danielle Austin, the manager of Coffee Ground at Hemel Hempstead Garden Centre, said: "Consumers are focusing on quality, this idea of craft, of one at a time. We consider our coffee roasting to be an art form, that's what sets us apart from everyone else."
 
Fuller's re-open Hampshire pub with updated food offer: The West London-based brewer and retailer Fuller Smith & Turner has re-opened the Frog & Wicket in Eversley Cross, Hampshire with an updated food offer after a refurbishment. The new menu, featuring pub classics, focuses on freshly cooked dishes using local and seasonal ingredients. David Gough, operations manager for the Frog and Wicket, said: "The Frog and Wicket is a great pub and this refurbishment has allowed us to make the most of its exciting features. The updated food offer, including a new kids' menu, alongside our quality drinks range, allows us to cater for everyone. We're looking forward to welcoming customers with some great promotions and offers over the coming weeks and we'll have some great music thrown in too."
 
Ceviche to open second restaurant on Old Street in City: The Peruvian restaurant Ceviche, founded by the Peruvian chef, restaurateur and award-winning author Martin Morales, has signed an agreement to open its second London restaurant on the ground floor of Empire House on Old Street on the edge of the City. Ceviche has agreed a 25-year lease for the entire 3,500 sq ft ground floor space of Empire House. It will now house a 70-cover dining room with a ceviche bar, a Peruvian rotisserie and an open grill, plus a bar area with room for 60 people that will serve bar snacks, pisco cocktails and craft beers from the UK and Latin America. The premises, formerly the historic Alexandra Trust Dining Rooms, is part of the Bower office and retail scheme at Old Street and City Road being developed by Helical Bar and Crosstree Real Estate Partners. Ceviche was founded in Soho, central London in 2012. In 2013 Morales opened another outlet, Andina, in Shoreditch, East London, serving a mixture of Peruvian and British dishes.
 
Starbucks US hires more than 1,000 military veterans: Starbucks has hired 1,084 military veterans in the United States in the past year as part of a commitment to hiring 10,000 veterans and military spouses by 2018. Of the more than 1,000 veterans and military spouses hired in the past year, the majority are beginning their Starbucks careers in stores as baristas, shift supervisors, store managers, district managers and regional directors. In addition, about 60 are working in 18 corporate departments including store development, global operations and supply chain operations. Starbucks also established an internal infrastructure dedicated to matching the transferrable skill sets of military veterans with specific talent needs across the enterprise. This will aid the company in meeting its goal of hiring another 2,000 veterans and military spouses in the next year.

Bibendum and PLB Group merge: Bibendum Wine Ltd has merged with the drinks importer PLB Group to create the Bibendum PLB Group. Both businesses will continue to trade as separate trading companies, with Bibendum concentrating exclusively on serving the on-trade business and PLB doing the same in the off trade. At the same time, Walker and Wodehouse Wines has joined the group. Walker and Wodehouse, which has a history stretching back to 1794 and which has held a Royal Warrant since 1955, will focus on supplying independent merchants and regional wholesalers. Michael Saunders, chief executive of the Bibendum PLB Group, said: "Consolidation has been a widely discussed topic in the industry for several years as companies strive to grow in a low margin and complex market. By uniting the strengths of Bibendum with the strengths of PLB, and maximising the expertise within each trading company, our new group will be uniquely placed to offer customers the best possible service."

Las Iguanas reports turnover and profit rise: The Latin American food brand Las Iguanas, led by Eren Ali and backed by the private equity firm Bowmark Capital, has reported that turnover rose 18% to £48.36m in the 52 weeks to 29 March 2014, up from £40.95m the year before. Pre-tax profit was up just 2.2%, at £4m, from £3.92m in 2012/3. Underling pre-tax profit, however, was up 13% to £4.9m, an increase of £600,000 over 2013 and a £900,000 pre-depreciation charge increase. The company said: "The business continues to perform very well, delivering yet another year of positive like-for-like sales and profit growth, despite being up against the successes of last year, when it benefited from the 2012 Olympics. The business continued its expansion plans, opening six sites in the year with a further six planned for the 2014/15 financial year." Las Iguanas said its rollout programme continues with "the opportunity to grow the business beyond 100 sites within the UK". The year saw the arrival of the former chief executive of Wagamama, Steve Hill, as chief executive on 6 January. However, Hill stepped down on 1 May, with founder Eren Ali resuming leadership of the business. Pre-opening and launch costs of £1.14m were incurred in the period, against £380,000 in 2012/3. The company expects a refund of £290,000 from the overpayment of Employers National Insurance on staff tips in past years. It said: "This has been agreed with HMRC and is stated net of costs associated with the appeal." Staff numbers grew to 1,073 in the year from 948 the year before. Las Iguanas was founded in 1991 when Eren Ali bought a failed Italian restaurant from his landlady in Bristol. He and his business partner Ajith Jayawickrema turned it into a Latin concept and renamed it Las Iguanas. Piper Private Equity bought a minority stake in 2002, helping the business expand from four to 14 restaurants. Five years later, Piper exited the business with a six-times multiple return on its investment. At the time of the acquisition, led by Bowmark Capital, the chain was valued at £27m. Jayawickrema has gone on to create the Caribbean concept Turtle Bay Restaurants, which currently has investment from Piper.