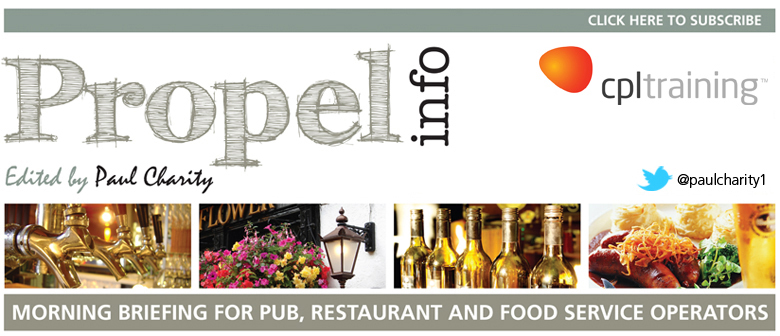 Fri 28th Nov 2014 - Propel Friday News Briefing
Story of the Day:

Like-for-like sales and Ebitda up in 2014 as La Tasca turnaround takes hold: The tapas chain La Tasca, led by Simon Wilkinson, has reported that its like-for-like sales are up 5% in the current financial year, with 96% Ebitda growth. The company has now had 19 consecutive months of like-for-like sales growth as its turnaround continues. Its five sites in the United States have seen a return to historic strong trading after a year that saw a government shutdown in Washington, and a record low temperatures reduce like-for-likes by 5.5%. In the year to 23 February 2014, overall turnover was £44,954,000, down 11.7% from £50,913,000 the year before. The operating loss fell to £1,018,000 from £3,941,000 before exceptional items in 2012/13. The overall loss was £1,743,000, down from £7,229,000 in 2012/13. The UK company continues to carry the cost of the Company Voluntary Arrangement, which was entered into in 2012/13, for rates and service charge of those properties yet to be re-let, which is expected to hit the company for £785,000 in the next financial year, it said. La Tasca's banks, Kaupthing and Commerzbank, have provided new loan facilities through to 30 June 2016, in a debt-for-equity swap. This replaces the previous loan facility of £38.9m. Total new committed facilities are £6m, with an additional facility of £1.5m available. "This re-financing has considerably strengthened the group balance sheet and deleveraged the business," the company said. La Tasca had a turnover of £37,880,000 in the UK, down 12.8% from £43,425,000 in 2012/13, and £7,074,000 in the US , down from £7,488,000. Staff numbers fell 15% to 1,207 in the year from 1,427 in 2012/13. Two sites were sold to third parties in the period for £270,000, a profit of £227,000. Since the year-end, a number of sites have been sold for premiums in excess of impaired values, which has led to a reversal of previous impairment charges by £915,000. Kaupthing now owns 47.95% of the company's equity, while Commerzbank owns 37.05%.



Industry News:

Multi-site operators scoop a quarter of Star Pubs & Bars awards: Multi-site operators won four of the 15 awards handed out by Star Pubs & Bars to the best retailers in its 1,100-strong pub estate in an awards ceremony held in London last night. The number of finalists doubled to 90. The winning multi-site operators were: Carvery Heaven scooped Pint Perfection Award at its Fountain Bridge site in Sutton in Ashfield, demonstrating Michael Perry's success at both running a 14-site operation whilst keeping an eye on the tiny details; Pickles Pubs received Best Outdoor Pub for its imaginative makeover of the garden at the Malt in Harden; Jack Werner of Tau Tona Hospitality took the Famous for Food Award for the Somerset House in Bristol; Mark Stevens' Murphys Sports Bar in Brentwood, won Live Sports Venue for the second year running. Judging was carried out over three months by both Heineken and Star Pubs & Bars' employees as well as sponsors with special expertise in each category. "The level of commitment, vision and commercial acumen we saw amongst our lessees is phenomenal. Judging such brilliant operators is humbling but also highly inspirational. With such talented individuals dedicated to the pub industry, it's hard not to feel there is a very bright future ahead for the great British pub," said Chris Jowsey, trading director, Star Pubs & Bars.




Coventry to host first major street food festival this weekend:

Coventry will host its first major street food event this Saturday (29 November) at Fargo Village, the Gosford Street shopping area. The Midlands street food collective Scoff is behind the event, which runs from 12pm to 6pm. The traders include sourdough pizzas from Spectacular Goat, gourmet hotdogs from Big Daddies Diner, burgers from the Meat Shack, East Asian cuisine from Canoodle, southern soul food from the Hungry Toad, gourmet toasted sandwiches from the Jabberwocky, vegetarian and vegan dishes from garden organic-based Fresh Rootz and sweet treats from Bournville Waffle Company. There is also a beer festival with more than 20 cask ales, Malaysian cooking demonstrations, a burrito eat-off challenge and a sausage-and-ale pairing.

Norman Baker MP – alcohol greater threat to health than cannabis:

Alcohol is a much greater threat to people's health than cannabis, the former Home Office minister Norman Baker has claimed in an interview in the Independent. Pointing to figures that show there were only 13 deaths related to cannabis use last year, against more than 7,000 allegedly caused by alcohol, the Lib Dem MP argued that there was "hysteria" over drug use in the UK. Baker said he had been shocked to learn of the extent of Britain's drinking culture during his year as crime prevention minister. During his ministerial stint he tried to shut down the JD Wetherspoon motorway pub on the M40, a move allegedly blocked by Number 10, and calling on shops to stop "irresponsible" alcoholic drinks promotions.

Beer accreditation scheme reaches 2,000 beers milestone:

Cyclops, the accreditation scheme for beer, has now reached 2,000 beers. The number is growing fast, with more than 400 new beers accredited in the past 12 months. According to the Cyclops Beer Board, which runs the scheme, the recent growth in cask ale and craft beer is the result of new drinkers being attracted to beers that are neither bland nor mass produced. Cyclops, the board said, since its inception eight years ago, "has done much to inform drinkers' decision making when it comes to choosing interesting and tasty beers both in the pub and off trade". According to a TNS Omnibus Survey earlier this year, 18% of those who have never tried real ale, would give it a try if simple tasting notes that explained what a beer looked, smelt and tasted like were added to the pump clip or handpump. This figure was much higher for younger drinkers at 44%. Peter Jackson, a former marketing director at Marston's and now owner of the newly formed Southwark Brewing Company, has just had his three core Southwark beers accredited by Cyclops. He said: "I was an early convert to Cyclops and Marston's was the second brewery to start using the Cyclops tasting notes. Cyclops makes it really easy for drinkers to make decisions about which beer to choose, as they can tell from the descriptions whether a beer is similar to another that they already like. It's not aimed at brewers, but at drinkers who use it to make comparisons and can easily see whether a beer is going to be light or dark, hoppy or sweet and use it to make informed decisions about whether they will enjoy a beer that is new to them".

Company News:

Amber Taverns re-opens Sunderland pub with vaudeville homage in £750,000 investment, three more to open before Christmas: Amber Taverns, the community pub operator that opened its 100th site last month, has re-opened a Wearside pub in an estimated £750,000 total investment. The former Black Bull has re-opened as Vesta Tilleys, in honour of the music hall star. A male impersonator, Tilley was hugely popular at the turn of the last century and became a symbol of female independence. She became synonymous with Wearside after laying the foundation stone for the Sunderland Empire in 1906. George Poulter, regional manager for Amber Taverns, said: "We take over pubs that are under-performing and give them some love. We bought this venue in March when the tenant's lease ran out and closed it down while we refurbished it. We've basically ripped everything out and started again." The Vesta Tilleys is the company's 101st pub, with sites in Gateshead, Stockton on Tees and Preston due to open before Christmas. Preston will be another Hogarths Gin Palace, the micro-brewery format the company unveiled in Bolton last month as its 100th site.


PizzaExpress hires new digital agency to revamp strategy: PizzaExpress has appointed Rufus Leonard to create a digital strategy, after a competitive pitch, Campaign magazine has reported. Rufus Leonard will handle all digital creative and strategic projects for PizzaExpress, as well as putting together a new website. The incumbent on the account is Maynard Malone. The move is part of a broader review in-house by the restaurant chain, which was sold to Hony Capital, a Chinese private equity firm, in July. Neil Svensen, the chief executive, co-founder and chief creative officer at Rufus Leonard, said: "PizzaExpress is one of the nation's most loved brands. They have a brilliant product and some serious ambitions to take this and deliver the best digital restaurant experience possible. We're really excited about the work we've got coming up." The7Stars, the media agency for PizzaExpress will not be affected by the changes.

Restaurateur receives £340,000 grant to help open second outlet: A Bradford pizza restaurateur has been given a £340,000 grant to open a second outlet in the city's Goitside conservation area. Sid Hussain started out as a pizza chef before opening his first Bell-A-Pizza restaurant in Allerton three years ago. He is now planning on opening another Bell-A-Pizza in the former Natasha school uniform shop in Westgate, Bradford, which was badly damaged in a blaze four years ago. The fire damage to the building was so extensive that the structure has had to be stabilised and needs a new roof, floors, and windows as well as a complete renovation inside. The project to turn it into a restaurant has been given a £340,000 grant from the City Centre Growth Zone initiative. Hussain said: "I was ready to expand, and as a business owner I believe we need to invest in Bradford city centre because it is our own city. The Growth Zone grant is making it all possible and this funding is really changing things." Designer Philip Bakes said they had come up with a scheme which had a modern open-plan style but was restoring some of the building's historic character by exposing original stone pillars and fascias and retaining some of the attractive arched windows. In summer, folding doors will open up the 100-seat dining area on to Westgate, which he said would create a Mediterranean cafe culture feel. The £35m City Centre Growth Zone scheme has been set up to support new and existing businesses, and is funded jointly by Bradford Council and the government.
 
Whitbread launches first electric vehicle: Whitbread has launched its first electric vehicle. The company will use the truck on a pilot basis, to service the Costa and Premier Inn routes in Greenford, Ealing, West London. It expects to save up to £12,700 and 21 tonnes of CO2 a year. The vehicle is "refuelled" nightly, when the battery charger also supplies the vehicle fridge with its a/c power, allowing the box to be kept chilled overnight. The low-emission truck is part of a wider sustainability strategy for Costa, which has seen it launch a campaign called "Beyond the Bean", to encourage broader best practice in British restaurants and cafes, beyond the provenance of tea and coffee.
 
Welcome Break set to unveil new-look South Mimms with new brands: Welcome Break will unveil a new-look South Mimms service station, at the junction of the M25 and A1(M), next Tuesday (2 December). The site has been updated to offer a more contemporary ambience. Three new brands are due to open at the site, Tossed, Subway and Harry Ramsden's.
 
Bone Daddies takes space at Whole Food Markets site in Kensington for second opening: The property agent Shelley Sandzer has acted on behalf of the American grocer Whole Foods Market in a deal that will see the oriental restaurant Bone Daddies open at 63-97 Kensington High Street in West London next month. Bone Daddies, which was founded by the former Nobu and Zuma head chef Ross Shonhan, take a 1,800 sq ft space on the first floor dining level of the Whole Foods store. Camilla Topham, partner at Shelley Sandzer said: "Whole Foods were seeking an exciting operator to enhance their existing food offer. They were keen to work with a local operator who was relevant and on trend but also who had a sustainably sourced menu. Bone Daddies ticked all the boxes." Nina Shores, vice-president of real estate at Whole Foods, said: "We are very happy to be working with Ross and his team. Bone Daddies is a niche and cool dining brand and they work in-line with the ethos of Whole Foods Market. Shelley Sandzer provided us with this opportunity proactively and confidently, and their understanding of the London market, as well as our specific needs, were key to completing the deal."
 
New bar from Marylebone Leisure Group hopes to restore reputation of fight-marred Uxbridge venue: The Marylebone Leisure Group has opened a new bar in Uxbridge, Middlesex on the site of a venue previously plagued by fights and anti-social behaviour. Bar Italia, an upmarket restaurant-bar, is based in the premises that were formerly home to Electric Lounge in Uxbridge High Street. It is next door to another Italian restaurant, Nonna Rosa, which is one of six other sites run by Marylebone Leisure Group, the company founded by entrepreneurs Ben Avigdori and Lawrence Santi in 2011. The new general manager at Bar Italia, Charlie Murrell, said he was confident he could turn the venue around: "Obviously we are aware of the clientele that was at Electric Lounge before and we are making sure we get rid of that. The product we're offering is something Uxbridge has never seen." The building, which seats 250 customers, has been completely refurbished and a new outdoor decking area is planned for next summer. The Electric Lounge club had been plagued by reports of fights both inside and outside the premises, as well as people shouting and swearing. Last year it had its opening hours cut because of such incidents. Before that the venue had been home to Base Bar, which also drew complaints about noise and fights. Earlier still it had been a Spearmint Rhino, one of the town's two lap-dancing clubs at the time. According to the website getwestlondon, various other businesses have also tried their luck with the location, but have often closed soon after launching. Marylebone Leisure Group also owns the Marylebone bar in Marylebone, Barsmith in Farringdon, Central London, the Bear pub, also in Farringdon, the Princess of Wales in Primrose Hill, North West London and the Longroom in Clerkenwell.

Luke Johnson – Great British Bake-Off good for business: Patisserie Valerie's executive chairman, Luke Johnson, has argued that The Great British Bake-Off has been good for business, driving time-poor Britons with less time for baking into Patisserie Valerie stores. He told City AM: "What's fascinating is that people watch it on telly and buy the recipe books, but a lot of people still don't cook them themselves. So they come to us to buy them, and that's great news. There is something reassuring and homely about baking and it's all good for the sale of cakes."
 
Head of six-strong Seafood Pub Company wins food and drink award: Joycelyn Neve, managing director of the Seafood Pub Company, the new owner of the Barley Mow Restaurant in Barley, Lancashire, has been named the Lancashire Life Food and Drink Hero of the Year. Neve, who lives in the village, received the award at the annual ceremony in Manchester. She said: "The Food Hero award was a total surprise but it is reward for the hard work of all of our teams. Without their commitment and belief in the Seafood Pub Company's vision, we would not be as successful as we are." The Barley Mow became the sixth Seafood Pub Company site when it opened its doors earlier this month after a complete transformation. It has become the first in a new division of pubs for the Seafood Pub Company called Pub Co, where "the emphasis lies in being a proper pub", according to the company.

Sol beer brand launches 'find an independent outlet' search app: The Heineken-owned Mexican beer brand Sol has launched a new search platform that will suggest independent cafes, bars and restaurants to users looking for an alternative to large chains. The search engine, which uses a bespoke algorithm to filter each result to only show independent options, has gone live in London and is set to launch in Sao Paolo next week, with ten more global cities planned for the future. The idea is similar to Heineken's @wherenext Twitter platform, which allows users to get instant restaurant and cafe suggestions based on geo-location. However, Sol's global brand manager, Dave Shoemack, told The Drum magazine that Sol Search was conceived separately and when you "dig deeper" the idea behind it was quite different. He said: "Wherenext is for a younger consumer, it's right now and what's hot in the world at this moment and very spontaneous, while with Sol Search we're talking to a more mature consumer, because at that age the need for freedom and independence is higher. We're not doing this specially to drive sales, because when you look around the advertising and the site, there's not a bottle anywhere, and that was quite purposeful, because we knew that if we branded it too much then our guys would run a mile. Firstly you've got to help them in some way and then trust that they will reward you in the medium to long term." Sol Search is being supported with a €100,000 (£79,000) digital campaign, which includes interactive ads demonstrating how the platform works. While Shoemack admitted the investment was relatively low, he said he was confident that Sol "knows who the customer is and how to get to them".
 
Douglas Jack issues 'add' note on SSP shares: Numis Securities' leisure analyst Douglas Jack has issued an 'Add' note on shares in the transport hub foodservice specialist SSP, with a target price of 300p. He said: "Pro-forma PBT was £71.5m (we forecast £68.9m; consensus £68.1m), with operating profit up 12.3% to £88.5m (we forecast £88.4m; consensus £86.1m). Operating profit was up 20.8% on a constant currency basis. In our view, SSP is highly operationally geared into growing markets, with plenty of self-help opportunity to grow margins. Although the valuation may appear high, so too is the growth and upgrade potential. SSP's operational gearing is high: 1% of extra LFL sales should boost PBT by 6% if volume-led and by 20% if price-led. Given this, the trend in global GDP growth, PAX, combined with self-help initiatives leaves forecast risk on the upside, in our view. We believe SSP's valuation is justified by annual expectations of c.0.4x net debt/Ebitda reduction and double-digit earnings growth over the medium term, with potential for forecast upgrades."
 
SN15 Leisure wins licence for Chippenham nightclub: Chippenham is to get a new nightclub after SN15 Leisure won the right to a premises licence in the old Karma building. It was granted by Wiltshire Council at a hearing yesterday, despite warnings from Wiltshire police that it did not have confidence in the new management not to make the same mistakes as those who ran Karma, which had its licence revoked in 2011. Philip Kolvin QC, representingN15 Leisure Ltd, which is run by Paul Shayegan, promised the company would adopt a Challenge 25 policy and take responsibility for people entering and leaving the building. SN15 Leisure Ltd will now enter into a 15-year lease with the landlord, spend £172,000 on a complete refit of the building and employ up to 40 people including the door team, some part-time.

End of an era as Coventry nightclub closes after 30 years: One of Coventry's longest-surviving nightclubs will be closing its doors for the final time in the new year. Carey's in Hertford Place has revealed that it will be shutting in January after 30 years. The club, on the edge of the city centre, was opened in 1985 by the Carey family. A statement on the venue's Facebook page said: "This January, in our 30th year of service, Carey's will be closing its doors for the final time. It hasn't been an easy decision but with a change in times, trends and tastes, we feel that it is time to take the venue on another journey." No details on the new direction have been provided.

Nando's opens fifth restaurant site in Milton Keynes: Nando's has opened its fifth site in Milton Keynes, this time at Milton Keynes Stadium. Dean Boiles, Nando's regional managing director, said: "We're thrilled to be opening another restaurant in Milton Keynes – a town that clearly has a passion for Nando's."

Pret A Manger expands Scottish network with two new openings: Pret A Manger is creating 34 new jobs with the opening of two new Scottish outlets in the coming weeks in Edinburgh and St Andrews. The latest store openings, on North Bridge in Edinburgh and Market Street in St Andrews, will take Pret A Manger's estate to 372 outlets. Its Scottish estate will hit 13 sites with the new openings. They follow a new outlet opening at Silverburn shopping centre in Glasgow in October, which brought 20 new jobs.

The Real Junk Food Project launches crowd-funding push to buy Leeds site: The Real Junk Food Project in Leeds, which intercepts food waste to feed local needy families, has launched a crowd-funding push on Indiegogo to raise £100,000 to buy its under-threat site. The Real Junk Food Project's "Pay As You Feel" cafe opened in Armley, Leeds in December 2013. The cafe, founded by chef Adam Smith and run by an army of volunteers, aims to reduce food waste and help those living in food poverty. It has inspired similar projects all around the country, with Junk Food cafes springing up from Manchester to Brighton. To date, it has served nearly 3,000 people hot meals in the Armley cafe, and intercepted more than 10,000 kilos of waste. The pitch states: "Currently, our home is up for sale and with your help we'd like to buy it. The cafe has become an invaluable resource for so many in the local community, and to see it close would be a hard blow to everyone who has worked so hard to build it into what it is today."

Greene King names Stephen Fry as first celebrity pub pal of the year: The actor, writer and presenter Stephen Fry has been named the first ever Celebrity Pub Pal of the Year for 2014 by Greene King. He received the accolade after 2,000 people were asked, "Which British celebrity would you most like to have a drink down the pub with?" Stephen Fry was the most popular suggestion, beating David Beckham and the X Factor favourite Cheryl Cole (now Cheryl Fernandez-Versini) to the top post. Jeremy Clarkson and Robbie Williams made up the remainder of the top five. Mark Blythman, communications director for Greene King, said: "We go to the pub with our friends and the people we most want to spend time with, so a fantasy pub pal is a good measure of the popularity of today's celebrities. It is also gives us a real insight into what the nation likes and it is great to see a diverse list of professions in the top five. As one of this country's most loved actors and personalities, it was not a surprise to see Stephen Fry top the chart and I am sure he will retain his place in the nation's heart for some time to come." Fry's team  was unable to accept the award because of filming commitments.
 
Kuwait Food Group and TGI Friday's sign a deal to open 35 more franchised sites in the Middle East: Kuwait Food Company and TGI Friday's have signed a deal to open 35 new Friday's restaurants in the Middle East over the next five years. This agreement will give Kuwait Food Group a total of 90 Friday's locations by 2019. Earlier this year, the company, which operates casual and quick service restaurants across the Middle East and North Africa, celebrated the opening of its 50th Friday's restaurant, in Al Jabriya, Kuwait. Next year, it will operate Friday's restaurants in nine countries when a new location opens in Erbil, Kurdistan. Marzouk al Kharafi, chairman of Kuwait Food Group, said: "We believe this agreement demonstrates our confidence in the Friday's brand and the brand revitalisation strategy that the Friday's management team have put in place. Friday's continues to prove itself as an industry leader, with global recognition and passionate guests, and we look forward to significantly increasing Friday's presence in these important markets."

McMullen starts recruiting for spring 2015 opening of Chicken & Grill outlet: McMullen & Son, the Hertford-based brewer and pub operator, has begun recruiting 50 new staff for front and back-of-house positions at its planned new Chicken & Grill operation in Royston, Hertfordshire. The as-yet unnamed pub-restaurant will be in the town's former post office, which operated as a pub called the Old Crown until a year ago, when its then lessee, the Bramwell Pub Company, went into administration. McMullen is now spending £750,000 revamping and refurbishing the premises. Rumours that the pub will be re-named The Postboy have yet to be confirmed, but Matt Cotter, area manager for McMullen, told the Royston News that the name would "hark back" to its former use. He said: "The pub will open in the spring of 2015 with a new name and an exciting food offer. We're recruiting now, with the intention of taking on 50 team members, both front and back of house." McMullen now runs around half a dozen pubs under the Chicken & Grill format, including the Red Lion, Hatfield, the Sun, Hoddesdon, the Plough, Cuffley, the Nag's Head, Bishop's Stortford and the Bull's Head, Turnford.




TCG – Christmas bookings are up 10%: 

The managed pub and bar operator TCG is predicting a healthy uplift in festive sales this year, based on a 10% rise in advance bookings compared to this time last year, with its sites outside London up by an impressive 20%. The increase came after a concerted drive by TCG to grow its slice of the Christmas market across the business. Festive menus were launched early in the company's unbranded pubs and bars, as well as its King's Feast community pubs and Henry's Café Bars, while a new "Christmas Champions" scheme helped a number of individual sites to plan ahead and maximise sales. TCG's director of operations, Ben Levick, said: "We're delighted with the level of advance bookings for the Christmas season this year, especially out of London. It's a testament to the hard work of teams across our estate, who have made sure that their pub or bar is seen locally as the best place to celebrate the festive season. Key to our success this year has been having a flexible offer that allows our individual sites to cater for a wide range of festive occasions. Although many customers still want a traditional turkey-with-trimmings dinner, we've also seen growing demand for more informal drinks and canapé-style gatherings. Our pubs and bars have gone out of their way to make their customers' celebrations special, resulting in this excellent uplift in bookings." The Christmas Champions scheme, introduced this year, was designed to encourage pubs and bars to focus early on the festive season. In 18 of TCG's mainstream sites, a member of staff was nominated as the "Christmas champion", and attended a one-day workshop in July. Sessions on festive POS, identifying potential customers and setting targets were included and all delegates have helped to achieve significant increases in bookings back in their pubs and bars. Levick said: "We've taken some very large bookings, including one for £23,000 at Via in West India Quay. These are numbers we've not seen for a while, and confirm that, finally, the corporate Christmas appears to be back."

Burger & Lobster launches 'cutting-edge' website: 

The restaurant group Burger & Lobster launched its new website this week, with what the company said was a number of ground-breaking design features. The site was entirely hand-drawn by the commissioned artist Alexandr Grigorev, and features sweeping motions which, Burger & Lobster said, "allow users to enjoy its design as both an entire piece as well as stand-alone illustrations". The design team also implemented "revolutionary Affectiva technology", which responds to mouse movements and eye movements where possible, sensing users, emotions to provide what Burger & Lobster claimed was "a truly intimate experience when enjoying the site". A spokesman for Burger & Lobster said: "We have all been so busy trying to adapt to the web as a 'new medium' that we lost sight of its full potential. The website offers all the traditional and immediate elements you would expect but also pushes the boundaries of those new and exciting technological advances available to us, creating true and emotional connections with our users." It can be viewed at 

www.burgerandlobster.com

. Burger & Lobster opens its seventh restaurant on 12 December in Cardiff, closely followed by its first restaurant in the United States, in New York. The group currently operates six Burger & Lobster restaurants in London, as well as a sister lobster roll concept, Smack.

UK hoteliers the most confident in Europe:

UK hoteliers are the most confident (85%) in Europe for the second year running, according to a survey. The fourth annual European Hotelier Pulse-Check by Choice Hotels, which owns the Comfort, Quality and Clarion brands, assesses its hoteliers' 2015 business imperatives and industry trends. The survey revealed that Choice pan-European hoteliers are entering 2015 much more confident than the previous three years with over half (55%) believing that the hotel sector will realise a sustained upturn in 2015, against only 28% who expressed similar sentiment in 2012. Hoteliers' confidence in room rates is also strong, with 68% of respondents expecting room rates will continue to perform well in 2015, up from 37% in the 2013 survey and 33% in 2012. It also found that 79% of European hoteliers in the survey say they intend to refurbish their hotels in 2015, and another 33% reported that they are looking to add another hotel to their property portfolio.


Apex to open first Glasgow hotel:

The Edinburgh-based hotel chain Apex has announced that it will open its first hotel in the west of Scotland next year, as part of expansion plans. The group said it had agreed to buy an existing hotel in Glasgow, which will be closed in January for refurbishment. The hotel, which has not been named yet for legal reasons, will reopen next summer. The announcement came as Apex reported increased revenues and profits for the year to the end of April. Turnover for the group grew by 11% to £56m, while profit before exceptional items was £9.6m, an increase of 37% on the previous year. Apex currently operates eight 4-star hotels, four in Edinburgh, one in Dundee and three in London.

Spirit wins fourth apprenticeship award

: Spirit Pub Company is celebrating winning the award for best apprenticeship programme at the Training Journal Awards for its team leader development programme. Spirit said the award, which is the fourth for the company's apprenticeship scheme in the last two years, was recognition for the outstanding learning and development practices that are being implemented. Sue Burton, apprenticeship manager for Spirit Pub Company, said: "We are absolutely thrilled to be crowned winners. To be considered alongside such great learning and development experts that are well established is an achievement in itself. In just over four years we have developed a comprehensive award winning apprenticeship programme and we are extremely proud to be recognised for our efforts so far."


Brewery boss slams continual vandalism at planned saké site:

The boss of the Arran Brewery has slammed the continual vandalism that is plaguing the planned home of Scotland's first saké brewery. Thieves have caused damage costing more than £60,000, including smashing more than 140 windows, at the Dreghorn site on Arran where the company is planning to create a saké brewery as well as a visitor centre, a brewing research and development centre and a bottling plant. Arran Brewery's managing director, Gerald Michaluk, said: " I am furious at the waste and cost of this vandalism. We have had a break-in and several windows smashed this week alone, adding to the 139 windows we have started to repair. I refuse to live in a high-security environment, with barbed wire and so on. This is going to be a visitor centre, and overt security does not go with this type of establishment. We now employ seven staff on the site and continue to recruit, but this criminality is putting our investment at risk. For example, we cannot get insurance on the site now, and these few idiots are putting serious investment and job creation at risk. It is time for the good people of Dreghorn to take action to reclaim their village from the vandals and thieves. I will be meeting with the local community council to discuss this."

Diageo explores click-to-buy technology to let consumers purchase drinks direct from ads:

Diageo is exploring ways of allowing customers to purchase its brands directly from adverts. It is looking to use technology developed by the London-based technology supplied Constant Commerce that will enable consumers to select their preferred retailer, such as Asda, Sainsbury's and Tesco, and buy products directly from online content, advertising and applications. Constant Commerce is the first to use technology that allows YouTube viewers to purchase products featured in the videos they are watching without leaving the page or interrupting play. At present the efforts involve Haig Club, the new single grain scotch whisky collaboration between Diageo, David Beckham and Simon Fuller, with the company planning to roll it out to other brands in the future. Other alcohol brands are also trying to tap into this market. Earlier this year, AB InBev's Leffe brand tried the technology by allowing consumers to purchase items from their preferred retailer via Leffe's YouTube channel, in a campaign promoting the beer's ties to food.

Giraffe Concepts reports loss in first year of Tesco ownership:

Giraffe Concepts has reported turnover was up in the 48 weeks to 23 February to £44,486,000, from £44,243,000 in the 52 weeks to 24 March 2013. It made an operating loss of £147,000, against £4,770,00 the year before. The financial year-end has been changed to fall in line with the restaurant operator's new parent company, Tesco.

 
Jamie Oliver hails branded food van at Bath rugby ground:

Celebrity chef Jamie Oliver has hailed his branded matchday "gastrovan" at the Rec, home to Bath Rugby Club. The "Jamie Oliver at Bath Rugby" van has been selling gastro/street food from a site in the supporters' village at the Rec since the end of October. Oliver said of the venture: "We're really excited to be serving up our food at Bath Rugby. It's a massive honour to be doing so at one of the greatest clubs in England and I hope that everyone going to watch a game will love our food as much as we do." Foods on sale, from £5 a time, includes the Dirty Burger (6oz beef patty shiny milk bun, crisp lettuce, tomato, gherkin relish), the Cheeseburger (like the Dirty Burger but topped with Swiss cheese) and the Barbecue Pulled Pork Bap (pulled shoulder of pork, smoky BBQ sauce, winter kale slaw).

Jimmy Spices operator East & West Leisure Group hit buffers over costs of attempted expansion into London:

The company that operated three Jimmy Spices restaurants in Epsom, Staines and Bath ran into problems when it tried to expand into London and streamline its operations, a report by an administrator has revealed. The report, by Gagen Sharma, of Sharma & Co, said East & West Leisure Group, the 100% owner of East & West Restaurants South Ltd, racked up "significant" costs when it decided to bring its laundry, warehousing, distribution and central kitchen operations in-house in 2012. It also recruited 40 staff, which added to the financial pressure. In August 2013, the company took out a £1.5m loan with NatWest to build a restaurant in Wembley, North London, which was scheduled to open that October. But a two-month delay led to the bank holding back £250,000 which was meant to be used to pay suppliers. In an attempt to refinance the debt, East & West Leisure Group took out another loan of £1.1m and an overdraft facility of £350,000. As a consequence, NatWest called in the Royal Bank of Scotland's Global Restructuring Group, which led to the managing director, finance director and other executive and non-executive staff at the company resigning. The departed directors then attempted to purchase 80% of the business for £1.5m, which the administrator said "damaged its reputation". To relieve pressure, private funders pledged £250,000. The burden on East & West Leisure Group grew when HM Revenue & Customs threatened to wind up the group and the UK Border Agency suspended its sponsorship licence, which it needed to support migrant workers. In May 2014, the agency revoked the licence, leading to a mass departure of staff. The report said the business was now "seen to be worthless", with debts totalling almost £5m. In July, a £2.3m offer was made for part of the business, which allowed it to repay its secured bank debt. As a result of the deal, East & West Leisure Group Ltd traded until September. It then entered a management trading agreement the day after the appointment of the administrator to protect its goodwill and facilitate a sale of the business. All branches are still trading. East & West Leisure Group is separate from Peppercorn Leisure, which operates Jimmy Spices restaurants in Solihull, Sutton Coldfield, Stratford upon Avon and the National Exhibition Centre in Birmingham. It is also separate from East & West Restaurants Midlands, operator of the Jimmy Spices outlet in Broad Street, Birmingham. Neither Peppercorn Leisure nor East & West Restaurants Midlands is in administration and their restaurants continue to trade as normal.